Tree pruning
Tree removal
Stump grinding
Ace Arbor Services (formally known as Darwin Ace Services) is a locally owned company with over 30 years experience in the tree industry.
We specialise in all types of tree and palm pruning or removal and stump grinding.
A well as removing your trees, we also offer an environmental service where most plant waste (free of weeds) is recycled and sold as mulch (aged or fresh). Large Mahogany logs are made into timber slabs.
All jobs are left in a clean and tidy state where the only thing left for you to do is relax and enjoy your new found space or peace of mind.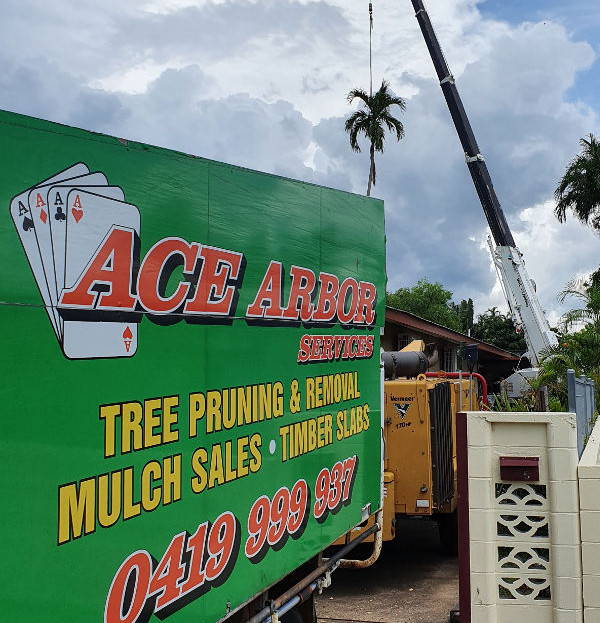 Free Quote From Ace Arbor Services
Get a no obligation free quote with competitive prices for your problem trees.

Locally owned
and operated


30 years experience
Reliable, Qualified, Insured

Competitive pricing
We strive to keep our prices competitive through the use of equipment such as cranes and cherry pickers which we own and operate.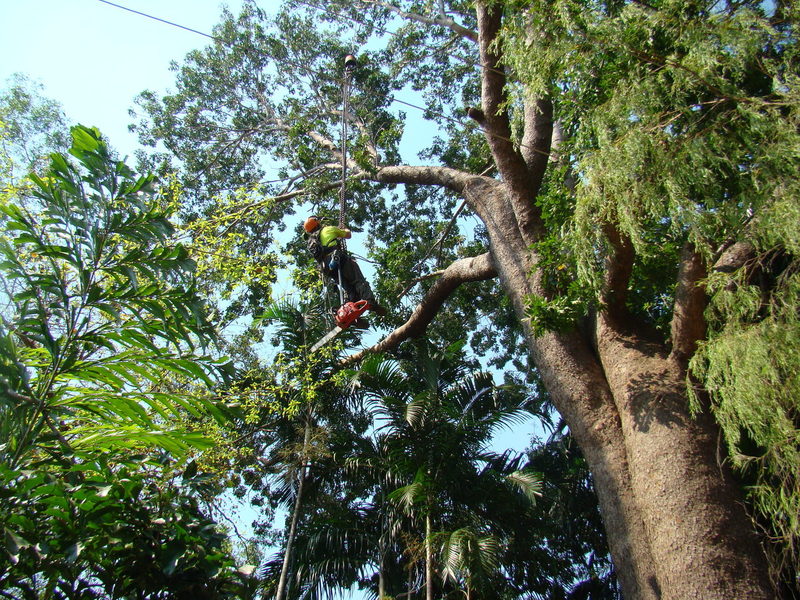 We provide service to the general public, private and public schools, and various government agencies.
Staff are trained in all aspects of tree and personal safety.
Most of our private work is generated through word of mouth and a happy client base.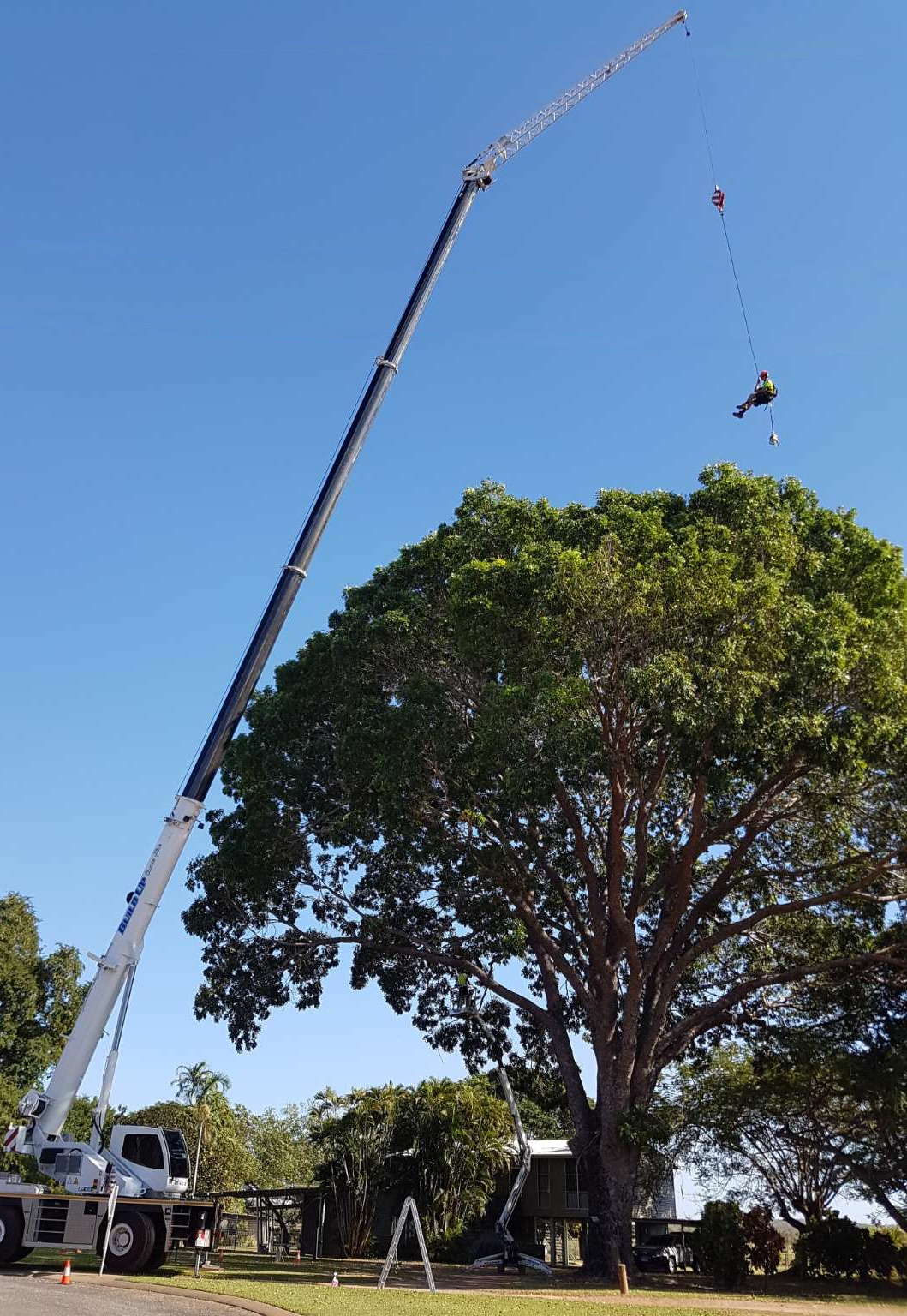 We have a qualified and experienced team of arborists to deal with all your tree or palm issues, from pruning and shaping to Australian standards, to full removals.
Tree pruning and removal
We can remove tree stumps and above ground roots making the area safe and free for other uses.
Stump Grinding
Most tree and plant waste is recycled and sold as mulch.
We have 3 grades of mulch: Mahogany woodchip (when available), Forest mulch - aged or fresh, and soil improver jungle mulch. Delivery is available.
Mulch sales
Large logs (especially Mahogany) are kept for slabbing and sawn into various sized timber and available for purchase for your home renovation or DIY projects.
Timber slabs
After having trees removed there is often a requirement for landscaping and remedial work.
Landscaping
We have a qualified arborist on staff who is available to give tree safety reports.
Tree Reports
Termites usually eat from the inside of the tree and in many cases may look completely healthy from the outside. Trees can become so unstable they pose a serious danger. Book a termite inspection report to confirm the presence of termites and check the structural stability of large trees.
Termite Inspection
Testimonials
You get what you get, when you hire most tradies. But when you get Ace Arbor in to check out your trees, you get something more! You get knowledge and expertise and sound advice from a passionate and committed team that work as long and as hard as you'll ever see. Your trees are in capable and loving hands! Can't recommend more highly!
Ace Arbor Services did a fantastic job in our yard. Peter's knowledge is 2nd to none and he continually discussed options with us until we knew exactly what it was that we wanted and needed to have done. Once started, the job was then completed professionally and quickly, with no fuss. We would have no hesitation in using him and his team again, or in recommending them
I would like to let the Ace team know how impressed we were with the job at our home. We needed the 2 large palms removed due to age and fungus. The price was right. When the Ace team arrived on time I happened to have unexpected visitors. I thought we would not be able to have a nice cuppa. Well was I wrong. Like a Swat Team, they moved in very quietly and each did their part. Within 2 minutes I saw this 25 meter Royal float past into the chipper. Out the back one climbed the very old tall coconut cutting it to the ground. By the time our coffees were made it was cleaned up and in the chipper. The noise stopped and it felt like only 15 minutes. Not a mess or disruption to the surrounding area. A joy to watch professionals in action.
Thank you again Peter and the crew from Ace Arbor Services for a job well managed and executed. We have been using your services for well over 15 years now to carry out audits and associated tree works, with outcomes and end results never disappointing. Peter's wealth of knowledge on everything trees/shrubs/palms in the territory is outstanding. When faced with a dilemma/problem in the yard he provides advice and solutions based on very sound arboreal facts and information providing the best short and long term outcomes.